It is common for individuals who are concerned about loose skin, wrinkles, and other blemishes to turn to non-surgical procedures that use radio frequency skin tightening to improve their skin's appearance. One option that patients may consider is ThermiRF. This is a skin tightening laser-like treatment that targets the subdermal layers of skin and melts associated fat. As the laser heats the subdermal layer, the skin will begin to produce collagen. The level of heat used will be controlled carefully by Dr. Goldberg or one of our board-certified providers. Their goal is to produce smooth, natural looking results that rejuvenate the appearance of the skin.
Who are the best
candidates for ThermiRF?
ThermiRF is used to treat wrinkles, cellulite, loose skin, and other conditions that affect the skin. Individuals who are not good candidates for surgical options commonly turn to ThermiRF. Doctors are currently using this treatment to lift and tighten the skin, while melting fat on the neck and face, reducing cellulite in the abdomen and thighs, and reducing fine lines and wrinkles that appear on the forehead and eyelids. ThermiRF can be used on almost every part of the body.
What occurs during the
ThermiRF procedure process?
ThermiRF is an outpatient procedure. It does not require significant anesthesia and is administered during a standard office visit. Dr. Goldberg, or one of our board-certified providers, will mark the areas that will be treated before the treatment process begins. They will also apply cool numbing gel to the area. Next, using a small circular handheld device that emits RF waves, they will target areas just under the surface of the skin. They will gently roll this device around the areas that require treatment.
Your provider will set a tiny probe that emits RF waves, according to the desired temperature. The tissue will be heated to a temperature that stimulates collagen production.
What should I
expect from treatment?
Individuals who undergo this procedure will feel heat from the laser. However, there is rarely any discomfort or pain. Once that treatment has been completed, a little bit of swelling and some redness are normal. These symptoms can last for several hours to a day. Most patients are able to resume normal activities immediately after the procedure. Some patients will see immediate results after the treatment, but it usually takes a couple of months to see the full effects.
Producing collagen is a slow process. Depending on the individual, your dermatologist may decide you need several treatment sessions. Once the desired results have been reached, the patient can expect them to last for a year or two.
Why is ThermiRF different
from other radiofrequency devices?
There are two main reasons why ThermiRF is different. First, it is given during a single treatment. Second, it delivers energy under the skin instead of through the top layer of skin. This means that the doctor can target the results while reducing the patient's discomfort.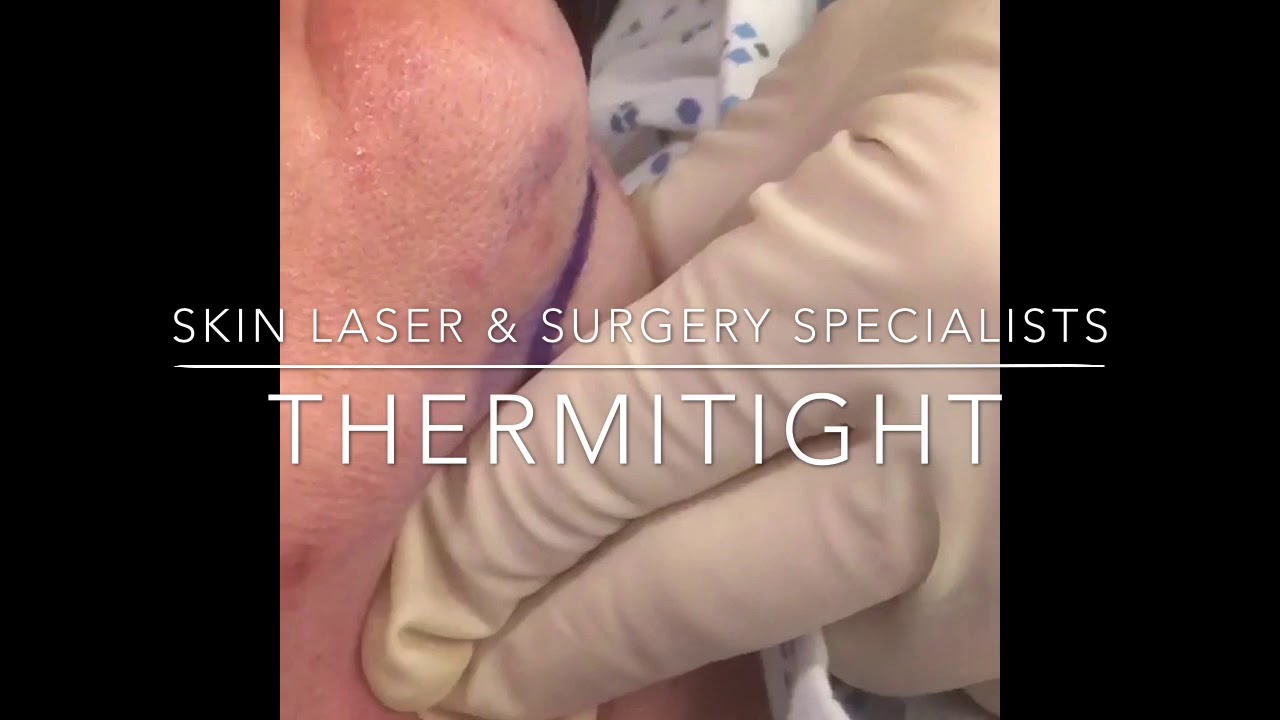 What is the cost of the
ThermiRF skin treatment?
ThermiRF is different for every patient. For this reason, your quote for treatment will be provided only after a thorough consultation and exam from one of our board-certified dermatologists. During this time, the two of you will determine your precise cosmetic goals, along with the exact treatment necessary for those goals. Our office also accepts CareCredit® and Alphaeon™ Credit to help you get your treatment right away.
How do I get started?
Dr. Goldberg and his staff will be happy to discuss the ThermiRF skin tightening system with you. Please feel free to call for a private consultation at one of our offices in New York or New Jersey.